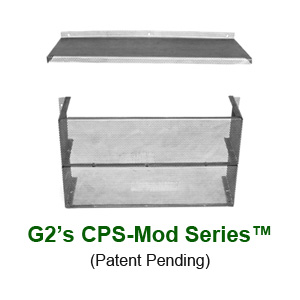 G2's CPS-Mod Series™
screens are full-capture systems with a revolutionary modular easy installation inside catch basins. Approved by Los Angeles County DPW and agencies nationwide, it prevents trash, pollutants, and debris from entering the water system through the outlet pipe.
Approved "Full-Capture System"
Captures 100% of trash and debris 5mm or larger
Fits all catch basins
100% stainless steel
Fabrication – "Made in California, USA"
Recommended with ARS CamLock Series™
Contact Us for more information and brochure.




Contractors, Resellers, & Distributors interested in G2's CPS-Mod Series™ screens should complete the Contact Us form for more information.